A Better Learning Experience
Everything You Need to Get Certified
This Food Manager Certification Exam and training bundle provides a convenient, all-in-one solution for food manager certification. Your training and exam can be completed 100% online. In-person exam testing is also available in some locations.
The training course prepares you for the certification exam. It includes additional resources, such as a study guide and certification exam practice test. Earn your certification after passing the Food Manager Certification Exam.
Exam Proctor Options
Important: All food manager exams must be monitored by a StateFoodSafety-approved proctor. help
Testing Center
Monitored at a local testing center.
Online
Monitored via webcam & microphone.
Taking the Exam in a Testing Center
With this proctoring option, you will take the exam at a PSI testing center. Before you continue, please read the terms below.
Check Location: We recommend that you check if there's a testing center near you by entering your zip code and clicking Check Location below.
Schedule the Exam: After you purchase, you can schedule* your exam in your StateFoodSafety account.
Arrive 15 Minutes Early: On the day of your exam, go to the testing center at least 15 minutes before your scheduled time.
Bring Photo ID: Bring a government-issued photo ID with you to the testing center.
*Please be aware that you may be charged fees for rescheduling or cancelling a session. For more details, see PSI's FAQ
*Locations may be checked in the dashboard and if no location is available in your area, you may reach out for a full refund within 30 days.
Optional: Check for a Testing Center Near you
We recommend that you check for your nearest testing center before selecting this proctoring option.
No locations found
Taking the Exam Online with a Remote Proctor
Online proctoring is a great option to take your Food Protection Manager Certification Exam from the comfort of your own home or office.
To participate in online proctoring, you must:
Have a webcam and microphone attached to your computer
Have a private room to take the exam in
Have a current, government-issued ID
For more information, watch our online proctoring requirements video or download our Exam Procedures PDF.
System Requirements:
For PC Users: Windows 10 (64-bit only) or Windows 11 (64-bit only). Not supported: Windows in S-mode or Windows Enterprise.
For Mac Users: MacOS Ventura (13.x), Monterey (12.x), or Big Sur (11.x)
Ubuntu 18.04, 20.04 or 22.04
Screen resolution: 1024x768 or higher
Bandwidth: 750kbps or higher (download and upload speed)
Chromebooks, phones, virtual machines and tablets are currently not compatible with online proctoring
Phones and tablets are currently not compatible with online proctoring.
Use this System Test to see if all requirements are met.
Note: You'll be able to schedule the exam after purchase. If you miss your scheduled appointment time, you will be asked to pay the proctor fee again in order to reschedule.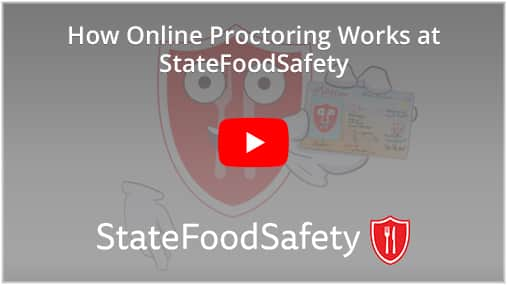 For more detailed information about online proctoring, download our Exam Procedures Document.
Employer or Health Department Proctored Exam
How It Works
You have selected Employer or Health Department Proctored as your proctoring option. This means your exam will need to be monitored either by your employer or by your local health department.
Please be aware that StateFoodSafety cannot guarantee that your employer has an in-house proctoring service or that your local health department provides proctors. To find out if your employer or health department offers this service, talk to your supervisor or contact your local health department before completing your purchase.
Note that some proctors charge an additional fee.
How to Schedule an Employer or Health Department Proctored Exam
If you are using your employer's in-house proctoring service, talk to your supervisor to schedule your exam.
If you are using a health department service, you will register for your exam in your StateFoodSafety account. After completing your purchase, log into your account and go to the My Courses tab. Click the Start button next to the exam to schedule it.
What's Included in Training & Exam
The most popular option if you need food manager training in addition to the certification exam.
Online Training
100% Online
Mobile-Friendly
8 Hours (Start and Stop as Needed)
Free Practice Test
Unlimited Attempts
Prepares You for the Exam

Certification Exam
ANAB Accredited (Nationally Approved)
75 Questions (2-Hour Time Limit)
750/1000 Points to Pass
Description
Food Safety Manager Training and Exam
This manager-level food safety training course will prepare you to take the nationally approved Food Protection Manager Certification Exam.

Learning Objectives
(Effective date October 29, 2020)
At the end of this course you will be able to:
Identify food safety risks and create policies to address them
Train employees to follow food safety policies
Take appropriate action when an employee has symptoms of foodborne illness or is diagnosed with a reportable disease
Follow good personal hygiene and hand care practices
Identify approved suppliers and methods for inspecting deliveries
Identify cross-contamination risks and methods for prevention
Implement effective cleaning and sanitizing procedures
Identify appropriate pest prevention measures and signs of pest infestations
Prevent bacterial growth in Time/Temperature Control for Safety (TCS) foods during all stages of the flow of food
Maintain facilities and equipment in compliance with regulations
Practice Test
This food manager practice test is designed to simulate the real test experience. It will help you identify areas of strength and weakness before you sit for the actual food manager exam! You can take this practice test as many times as you want.
Food Protection Manager Certification Exam
The Food Safety Manager Certification credential communicates to the food service and retail industry that you have the knowledge, skills, and abilities necessary to oversee the safe storage, preparation, and service of food in the workplace. This credential is received by passing the Food Protection Manager Certification Exam.
| Exam Content Description | Percent of Exam |
| --- | --- |
| Preventing Food Contamination | 35% |
| Food Worker Health and Hygiene | 23% |
| Equipment and Utensils | 15% |
| Managerial Responsibilities | 12% |
| Regulatory Compliance and Records | 8% |
| Facility Design | 7% |
| Total: | 100% |
How To Get Certified
Select a course that includes the StateFoodSafety Food Protection Manager Certification Exam.
Select an exam session with a proctor. You can do this during the registration process or any time after.
Purchase course and finish registration process.
Prepare for the exam with the StateFoodSafety Food Safety Manager Training and Course Assessment.
Take the Food Protection Manager Certification Exam at your scheduled proctored session. Don't forget your photo ID! *
Print your Food Safety Manager Certificate from your account at statefoodsafety.com ** This certificate is good for 5 year(s).
The exam is closed book. You will be responsible for adhering to the Examinee Code of Ethics and all rules explained by the proctor.
*Must be a valid government-issued photo ID.
**Must pass the Food Protection Manager Certification Exam to receive a certificate.
Training Demo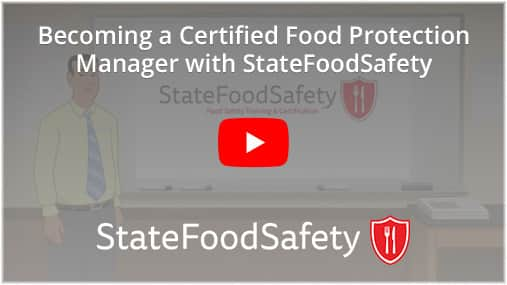 Sharpen your managerial skills and arm yourself with essential food safety know-how! Learn everything from how to prevent food hazards to how to create employee training programs. This course prepares you to take the StateFoodSafety.com Certified Food Protection Manager Exam.
What Food Managers Are Saying
"...I can definitely say this course was much more enjoyable and effective than the other course I took several years ago."
"I was pleasantly surprised at the quality and ease of the online course."
"I would definitely recommend my family and friends to take [this] online course!"
Recommended Study
Prepare for the Food Protection Manager Certification Exam with the following:
Certificate Reprint
In most areas, you can reprint your required Food Manager Certificate by logging in to your account.
Login.
Find the Certificates window on your dashboard.
Locate the digital version of your certificate and click View Certificate.
Select Print or Email.
Note: In some areas, you get your official Food Manager Certificate from the local health department. If you have lost the card you received from your state, county, or local health department, you will need to call that health department to obtain a new card, permit, or certificate.