Fast and Convenient Alabama Food Handlers Training
Alabama food handlers can train 100% online to satisfy food safety training requirements for their employer or local health department. A food handlers card is required for all food employees in Jefferson and Mobile counties, and this training is highly recommended for any food service employee in Alabama.
Upon course completion, you'll be prepared to:
Recognize how food can cause illness or allergic reactions
Prevent contamination of food and food-contact surfaces
Identify which symptoms or illnesses must be reported to a manager
Use time and temperature control throughout the flow of food
Maintain a clean environment for food preparation and service
We offer courses approved by the Jefferson County Department of Health and the Mobile County Health Department for food handlers in Jefferson and Mobile counties. Our Food Handlers Essentials course is acceptable for Alabama food handlers in any other county.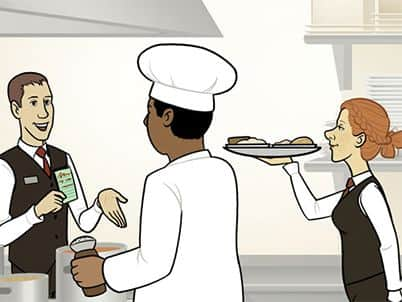 FAQs
Who needs a food handlers card in Alabama?
In Alabama, food handler training is recommended for anyone who works in a food service establishment, including restaurants, cafeterias, food trucks, cafes, bakeries and similar businesses. This includes individuals who handle, prepare, serve or come into contact with food as part of their job responsibilities.
Alabama food handlers are legally required to earn a food handlers card in Jefferson County and Mobile County. Training is recommended for any food handler in Alabama, and employers may require you to be trained even though it is not mandated by the state.
A food handler's card indicates that you have completed training and have the knowledge required to handle food safely. You can contact your local health department or regulatory agency for specific requirements in your area.
How do I get a food handlers card in Mobile or Jefferson County?
To obtain a valid food handlers card in Mobile County or Jefferson County, you must enroll in a county-approved training course, complete the training and pass the final exam. After you complete the course and pass your exam, you can instantly print a certificate to present to your employer.
You can check with the Mobile County Health Department or the Jefferson County Department of Health if you have questions about specific requirements or regulations related to food handlers.
Do chefs in Alabama need a food handlers license?
In Alabama, chefs and other employees working in food service establishments are typically not required to have a food handlers license or card. However, all food employees in Mobile and Jefferson counties must complete training and maintain a valid food handlers card. It is highly recommended that all chefs complete food handlers training to learn best practices for preventing foodborne illness.
What languages are available for Alabama food handlers training?
Alabama food handlers training is available in the following languages:
English
Spanish
Simplified Mandarin
Korean
Vietnamese
American Sign Language
Tagalog
Serbo-Croatian
After you purchase your course, you can select your language.