Earn Your Utah Alcohol Certification
Alcohol certification training is a requirement for alcohol sellers and servers in the state of Utah. Whether you are a bartender, server or hospitality industry employee, obtaining Utah alcohol certification is essential to your safety and the safety of others.
Throughout your training, you will learn:
Utah liquor laws and regulations
Responsible alcohol service techniques
Recognizing signs of intoxication
Preventing sales to minors
Identifying fake IDs
Liability and legal implications of alcohol service
And more
Our state-approved courses teach you to sell or serve alcohol responsibly, understand Utah liquor laws and regulations, and ensure customer safety and satisfaction. The Utah Alcohol Certification (On-Premise Server) course is designed for bartenders and other on-premise alcohol employees. The Utah E.A.S.Y. Alcohol Certification (Off-Premise Seller) course is for employees who sell sealed beverages to go. Make sure you take the correct course for your job role.
StateFoodSafety's alcohol certification courses are approved by the Utah Division of Substance Abuse & Mental Health, making it easy to satisfy your state-required training 100% online.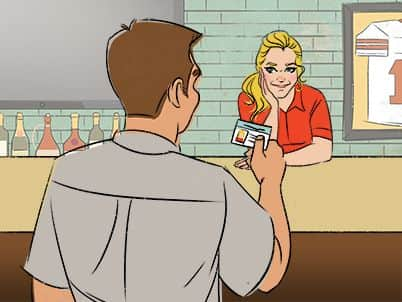 FAQs
What is Utah alcohol certification?
Utah alcohol certification is a state-required training program that you must complete to legally serve and sell alcohol in the state of Utah. The certification ensures that individuals have undergone proper training to responsibly handle alcohol, understand the state's liquor laws and promote safe alcohol service practices.
Who needs Utah alcohol certification?
Anyone who serves or sells alcohol in Utah, such as employees of bars, restaurants, hotels, liquor stores and retail stores, must obtain a Utah alcohol certification. This includes managers and supervisors.
Is Utah Alcohol Certification mandatory?
Yes. Utah Alcohol Certification is mandatory for alcohol sellers and servers in Utah, and compliance is enforced by the Utah Department of Alcoholic Beverage Services (DABS). Failing to obtain Utah Alcohol Certification may result in penalties and can prevent you from working in a position that involves selling or serving alcohol.
Are these courses approved by the state of Utah?
Which Utah alcohol certification course do I need?
If you serve alcohol in a bar, restaurant or another location where drinks are consumed on-site, you can satisfy state training requirements with Utah Alcohol Certification (On-Premise Server) training.
If you work at a liquor store, convenience store, grocery store or anywhere else that sells sealed alcohol customers cannot drink on-site, you need the Utah E.A.S.Y. Alcohol Certification (Off-Premise Seller) course.
When do I need to get my Utah Alcohol Server Certification?
According to the Department of Health and Human Services, on-premise employees must earn their certification within 30 days of starting work. On-premise employees include anyone who serves alcohol in a restaurant, bar, club or similar establishment.
Off-premise employees, or those who sell sealed alcohol to be consumed off-site, must complete Utah E.A.S.Y. Alcohol Certification before they start work.
What topics are covered in the Utah Alcohol Certification course?
The Utah Alcohol Certification course covers a variety of topics, including Utah alcohol laws and regulations, identifying fake IDs, responsible alcohol service techniques, recognizing signs of intoxication, handling difficult situations related to alcohol service and more.
Is Utah food handlers training required for food employees?
Yes. If you handle or serve food in addition to alcohol, the state requires you to earn a Utah food handlers permit. We offer state-approved Utah Food Handlers training for employees who handle or serve food, including chefs, cooks and others involved in food preparation. Our course is approved by the Utah Department of Health and satisfies employer and state training requirements.
Food employees need to complete their food handlers training and earn a permit within 14 days of starting work. After you complete the course, you can instantly download a temporary certificate while you wait for your local health department to mail your official Utah food handlers permit.
What do I get when I finish this course?
You will receive your Utah Alcohol Server Certification or Utah Alcohol Seller Certification after you complete your course. You can download your certification as soon as you pass the course.
How long is my Utah alcohol certification valid?
The Utah Alcohol Server certification for on-premise servers is valid for three years from the issue date. The Utah Alcohol Seller Certification provided by the E.A.S.Y. course for off-premise sellers is valid for five years.
How do I renew my Utah alcohol certification?
If your certification has expired, you will need to re-purchase and retake Utah alcohol certification training and the final exam. You will then be issued an updated certification that you can submit to your employer for proof of completion.