100% Online Food Handlers Card Training
Learn safe food handling techniques and earn your Kansas food handlers card online. Take the Food Handlers Essentials course or the City of Leavenworth-approved course on any device, and complete your training whenever and wherever you like. Enjoy 24/7 course access and print your food handlers certificate as soon as you finish.
Explore food safety topics like:
Professional hygiene and handwashing
Safe methods for thawing, cooking and storing food
Cross-contamination prevention
Foodborne illnesses and food allergies
Time and temperature controls
This training is ideal for any employees whose job duties include preparing, handling, processing or serving unpackaged foods. Our programs incorporate the food safety principles found in the FDA Food Code.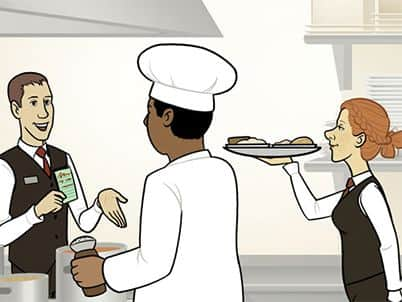 FAQs
What is food handlers training?
Food handlers training, also called food safety training, teaches the basics of safe food preparation to employees in restaurants and other food service facilities. Food safety is so important that three federal agencies, states and local health authorities work together to create food handler training standards.
The exact content and requirements for food handlers training vary by location, but it usually includes topics like cooking times, safe heating and cooling, sanitization standards, risk factors for foodborne illness and other crucial food safety guidelines.
What do I get at the end of food handlers training?
You will receive a Kansas food handlers card immediately after completing your training. If you take a county-specific training program, your certificate will include the name of your county. You can print a new food handlers certificate at any time by logging into your course.
How long do I have access to Kansas food handlers card training?
Once you purchase the course, you have full access to all course materials for one year. That means you can rewatch lesson videos, refresh your knowledge and reprint your certificate at any time for 12 full months.
What's the difference between a food handlers card and a food handlers certificate?
The main difference is the size of the document. A food handlers card is designed to fit in your wallet as a convenient way to show you hold an approved food handlers certificate.
Both a food handlers card and a food handlers certificate serve as proof that you have satisfied the necessary food safety training requirements to work in a food service establishment.
Where can I learn more about food safety?
Is your food handlers training available in multiple languages?
Yes, our programs are available in multiple languages, including English, Spanish, Korean, Mandarin Chinese, Vietnamese, American Sign Language and more. You can select the course language during checkout. Language options may vary by location.