Get Your California Food Handlers Card 100% Online
Individuals seeking a food handlers card in California can train completely online, which makes your food safety training more convenient and flexible. The online format allows food handlers to satisfy state or local training requirements using any device with an internet connection.
We offer a state-accepted food handlers program approved by the California Department of Public Health (CDPH) as well as county-specific programs approved by local health departments. ANAB-accredited training is available to satisfy county or employer requirements.
You'll learn essential food safety principles, including:
Preventing foodborne illness
Keeping your work environment clean to prevent contamination
Controlling time and temperature to properly heat and cool foods
Protecting diners from contaminants and food allergens
The online training modules include interactive activities and video demonstrations, enhancing your learning experience. Additionally, the courses are offered in multiple languages, catering to a diverse range of learners within California. Online food handlers training in California provides a convenient and effective way to learn and maintain food safety standards.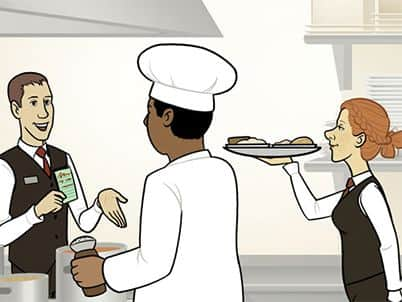 FAQs
Who needs a food handler card in California?
Food handlers training is required for most employees who prepare or handle food in California. In addition to kitchen staff and servers, workers who handle unpackaged food, food equipment, utensils or food-contact surfaces need a food handler card.
If you are employed as a food handler, it is mandated by California law that you obtain your food handler's card within 30 days of commencing work. However, certain counties may require training on additional topics and have a shorter deadline to complete training. These requirements ensure compliance with local food safety regulations and protect public health.
How can I get a California food handlers card?
To get a California food handlers card, you can take one of our state- or county-accepted training courses online. We offer a California Department of Public Health-approved course that is ANAB accredited and accepted in most California counties. In addition, we offer county-specific programs for Riverside County, San Bernardino County and San Diego County. Complete your training at your own pace and pass the final exam to earn an instantly downloadable food handlers card.
Please note that it is always a good idea to double-check specific requirements for your county. Training requirements and deadlines may be stricter within your county of employment.
How long does a California food handler card last?
In most counties, a California food handlers card is valid for three years. But certain counties may require more frequent retraining. A Riverside County food handlers card, for example, is valid for two years. Review California food safety regulations for more details.
How do I renew my California food handler card?
If your food handler's card has expired, you must purchase and retake the California Food Handlers Card training as part of the renewal process. This requirement ensures you remain current with the latest food safety guidelines and regulations, reinforcing your commitment to public health.
Is this food handler card training and test approved for my locality?
If you're a food handler working in California, we have a course for you. We offer an ANAB-accredited food handlers course that is approved by the California Department of Public Health and accepted by most counties. We also provide county-specific training for counties with stricter training requirements.
Note: you must take a county-accepted course if you work in one of the following areas: Riverside County, San Bernardino County or San Diego County.
Is California food handlers training available in multiple languages?
Yes, our training programs are available in the following languages:
English
Spanish
Simplified Mandarin
Korean
Vietnamese
American Sign Language
Tagalog
After you purchase your course, you can select your language.