Earn Your Food Safety Manager Certification 100% Online
Become a certified food protection manager with our ANAB-accredited training and certification program. If you manage or supervise employees who handle, prepare, store or serve food, the Food Safety Manager Training course will prepare you for your certification exam. We offer convenient online training and certification options whether you work for a restaurant or a grocery/convenience store.
The food manager certification exam covers:
How to prevent food contamination, including cross-contamination
Food worker health and hygiene habits
Tools, equipment and utensils used in food preparation
Your responsibilities as a food manager
Regulatory compliance and recordkeeping
The role of facility design in food safety
Choose between the Food Service/Restaurant and Grocery/Convenience Store options to start a program designed for your job role. If you're not sure which one applies to you, contact your employer. In addition to our all-in-one certification package, which includes online training and your certification exam, you can purchase your training or exam separately. Training materials, lessons and the practice exam are available in multiple languages.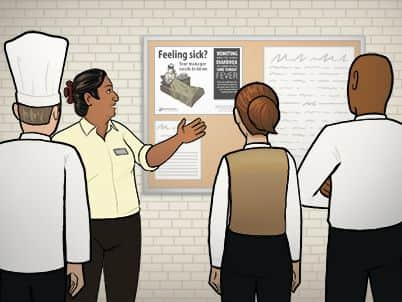 What's Included in Food Safety Manager Training?
The food manager training course contains in-depth lessons that prepare you for the Food Protection Manager Certification Exam. You can download and print your food manager certificate as soon as you pass.
Start and stop this 100% online, mobile-friendly course whenever you like. Lessons provide training on food safety topics you will be tested on during the certification exam. Subjects include preventing food contamination, food worker health and hygiene, equipment and utensils, managerial responsibilities, regulatory compliance, records and facility design.
The training course also gives you a handy glossary of important terms and a detailed study guide. You will have access to a full-length practice exam that you can take as many times as you want.
The certification exam is the test you must pass to become a Certified Food Protection Manager. Choose from an in-person exam session at a nearby testing site or an online-only exam proctored with the help of a webcam.