Earn Your Barbour County Food Handlers Card 100% Online
Our online training courses teach essential safety and sanitation skills to food service employees. Barbour County, West Virginia Food Handlers Card training ensures that food handlers receive the training they need to maintain a hygienic and safe food environment. Train online at your own pace and instantly download your food handlers card after course completion.
Our Food Handlers Card training covers topics including:
Food safety and hygiene
Time and temperature control
Regulations and guidelines for food establishments
Safe food storage
Preventing foodborne illness
And more
Employees who will benefit from this training include anyone who works in the food service industry, such as cooks, waitstaff, caterers, food truck operators, cafeteria workers and more. This program is approved by the Barbour County Health Department and adheres to FDA Food Code guidelines and standards.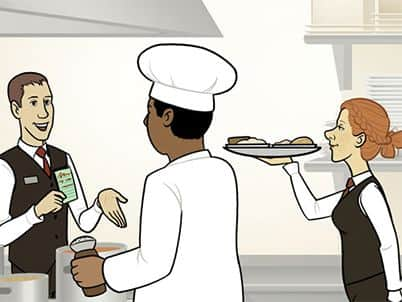 FAQs
What is food handler training?
Food handler training is designed to provide food-service employees with the knowledge and skills necessary to handle and serve food safely. The training covers essential topics such as cross-contamination prevention, cleaning and sanitizing procedures, allergen awareness and more.
Who needs food handler training?
Food handler training is typically required for individuals who work in establishments where food is served, including restaurants, cafes, catering companies, food trucks and institutional kitchens. This includes anyone involved in tasks related to food preparation, handling, serving or storage. If you are unsure whether you need a food handlers card, check with your employer or county health department.
When do I need to get my Barbour County Food Handlers Card?
You must earn your card within 30 days of starting work.
How long will my Barbour County Food Handlers Card be valid?
Your food handlers card will be valid for two years.
What do I get after finishing the course?
You can instantly download a certificate of completion and a food handlers card after completing the course. These documents are proof of your training that you can submit to your employer.
Why is food handler training important?
Food handler training is crucial for preventing foodborne illnesses and maintaining high standards of food safety. By understanding and following proper food handling practices, food service professionals can minimize known risk factors for cross-contamination and food-related illness. Training also ensures compliance with local health regulations and promotes a safe and sanitary food environment.
What will I learn in food handler training?
Food handler training courses cover a wide range of topics essential to food safety. These may include proper handwashing techniques, safe food storage and temperature control, preventing cross-contamination, identifying foodborne illnesses, allergen awareness, local health regulations and more.
Will my food handlers card be valid in another state, county or jurisdiction?
Food handlers cards are typically valid in the state or jurisdiction where the training is completed. While your card or certificate may be accepted in other states or jurisdictions, it is essential to check the specific requirements of the state or jurisdiction where you plan to work to ensure regulatory compliance.
Is your food handlers training available in multiple languages?
Yes, our programs are available in multiple languages, including English, Spanish, Korean, Mandarin Chinese, Vietnamese, American Sign Language and more. You can select the course language during checkout. Language options may vary by location.