Texas food handlers training provides a comprehensive, online solution for employees who need to satisfy food safety training requirements. Train 100% online and comply with the Texas Department of State Health Services (DSHS) or specific requirements for your county or city.
Our engaging and interactive courses equip food service professionals with the knowledge and skills necessary to handle food safely, maintain personal and food-related hygiene, and prevent foodborne illnesses. Train at your own pace while learning essential topics such as cross-contamination prevention, time and temperature control, cleaning and sanitation, allergen awareness and more.
Online training is an ideal option for busy professionals. Chefs, servers, kitchen staff and other food employees can train 24/7 on any device with an internet connection. You'll receive your food handlers card immediately after completing the course and passing the final exam. Your certificate will remain valid for two years.
Most food service employees in Texas are required to complete training within 30 days of starting work. Trust in our state- and ANAB-accredited courses to meet your state or local training requirements and promote a safe and healthy food service environment.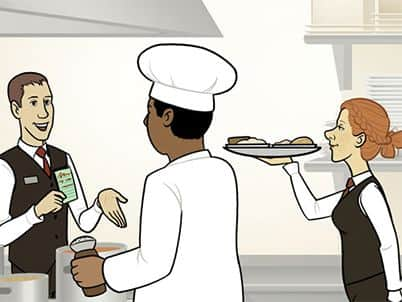 FAQs
Who needs Texas food handler training?
According to the Texas DSHS, food employees in Texas are required to complete accredited food handler training and obtain a valid food handler certificate. This includes individuals who work with unpackaged food, food equipment or utensils, or food-contact services.
Food handler training is typically required for employees of:
Restaurants
Cafes
Food trucks
Caterers
Schools
Hospitals
Nursing homes
And more
You may be exempt from food handler training if you only serve pre-packaged food items. However, food safety training can benefit any worker who handles or serves food.
Are there any age restrictions for taking the food handler training course in Texas?
There are no age restrictions for food handler training in Texas. However, your county or local municipality may require food employees to meet a minimum age requirement. Check with your employer or local health department to ensure compliance with any additional age requirements.
Can I take the Texas food handler training course on a mobile device or tablet?
Yes. Our online food handler training course is compatible with mobile devices and tablets. This allows you to conveniently complete your training on any device with an internet connection and a compatible web browser.
Is the food handler certificate valid in all counties within the state of Texas?
Yes, we offer accredited training for all Texas counties (Harris, Dallas, Tarrant, Hardin, Bexar, Travis, etc.) and cities (Houston, San Antonio, Dallas, Austin, Fort Worth, El Paso, McAllen, etc.).
The City of Fort Worth, Texas Food Handler Course is accredited by the ANSI National Accreditation Board (ANAB) and approved for use throughout Fort Worth. All other county- and city-specific courses are approved by the Department of State Health Services.
Is Texas food handler training available in Spanish and other languages?
Yes! To meet the diverse needs of food handlers across the state, we offer all Texas food handler courses in English and Spanish. Additional languages are available in some locations, so select your location to see all available languages. You'll choose a language after purchase.
Does this training provide food manager certification?
No, Texas food handlers training is designed for employees who handle and prepare food. You can learn more about our food manager training and certification program if you are seeking your food manager certification.
StateFoodSafety is accredited by the ANSI National Accreditation Board (ANAB) and the Conference for Food Protection (CFP) to provide a nationally accepted food manager certification exam that is recognized by the Texas Department of State Health Services.
What are Texas requirements for food handler training and food manager certification?
According to the Texas Department of State Health Services, Texas Food Establishment Rules require all food employees to complete an accredited food handler training course within 30 days of starting work.
In addition, Senate Bill 1158 of 2017 may require a certified or trained food manager to be on duty at the food establishment during the business's operating hours. This requirement can apply to any Texas county with a population of 4 million or more. Learn more about Texas food manager certification and training.