Our Arizona food handlers card courses prepare food service employees in every Arizona county to handle food safely and satisfy local training requirements. This training covers essential topics related to food safety, such as cross-contamination prevention, proper food handling practices, personal hygiene and more. You'll learn the importance of maintaining high standards of food safety through interactive modules and engaging, ANAB-accredited content.
The course content is regularly updated to align with the latest industry standards and regulations, ensuring you receive the most relevant and accurate information. Whether you are a new food handler or a current employee seeking refresher training, our accessible courses provide all the information you need to earn an Arizona food handlers card and maintain a safe and hygienic food-handling environment.
Food handler training in Arizona is not required statewide but is recommended to promote food safety and sanitation. Certain counties have specific requirements for food handler training, so select your county during registration if applicable. You can check with your local health department to learn more about specific requirements for your location.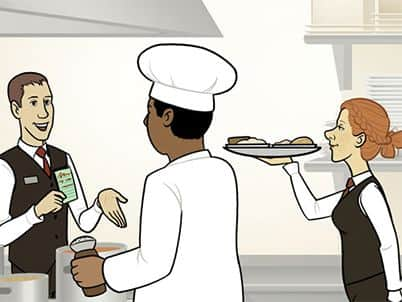 FAQs
Who needs a food handlers card in Arizona?
Arizona requirements for food handlers card training vary by county, so it's a good idea to check your local requirements. A food handlers card is typically required for employees who handle, prepare, serve or store food. This includes workers in restaurants, food trucks, catering companies, schools, hospitals or any other establishment where food is prepared or served to the public.
Upon successful course completion and passing the final exam with a score of at least 70%, participants will receive a valid food handler card.
What topics are covered in Arizona Food Handlers Card Training
Our courses cover a wide range of topics essential to food safety, including personal hygiene, cross-contamination prevention, time and temperature control, proper food handling and storage practices, allergen awareness and more. It also provides information on Arizona's food safety regulations and requirements.
How long do our courses take to complete?
Arizona food handlers card training can take as little as 30 minutes to complete, but the total course time may vary by county. The Coconino County program, for example, takes at least 75 minutes to complete. To finish the course and receive your food handlers card, you must complete each course module, watch the required training videos and pass the test with a score of at least 70%.
Are your Arizona food handler courses ANAB-accredited and recognized by the state?
Yes. Our Arizona food handlers courses are ANAB-accredited and approved statewide. We offer training for all Arizona counties (Apache, Cochise, Coconino, Gila, La Paz, Maricopa) and cities (Phoenix, Tucson, Sedona, Flagstaff).
Where can I find more information about Arizona food safety regulations?
Is Arizona food handlers training available in multiple languages?
Yes, our Arizona training programs are available in the following languages:
English
Spanish
Simplified Mandarin
Korean
Vietnamese
American Sign Language
Tagalog
Serbo-Croatian
After you purchase your course, you can select your language.