How to Get a Food Handlers Card in Virginia
Getting your Virginia food handlers card is simple — and you can satisfy your state or local training requirements 100% online. Watch easy-to-understand training videos, then pass a test at the end of the course. Over 90% of people who take our courses pass the final exam!
While lessons can vary depending on local training requirements, most courses take under two hours to complete.
Virginia food handlers training will prepare you to:
Recognize how food can cause illness or allergic reactions
Prevent contamination of food and food-contact surfaces with the hands and body
Identify which symptoms or illnesses must be reported to a manager
Use time and temperature control throughout the flow of food
Maintain a clean environment for food preparation and service
After passing the test, you can immediately download your certificate and food handlers card.
Who Needs Food Handler Training in Virginia?
Virginians who work with food, food equipment or food contact surfaces are responsible for keeping customers safe and preventing foodborne illness. That's why many employers and local governments throughout the state require food handlers to complete safety training and get a food handlers card.
But not all training is the same. Certain counties and cities in Virginia have specific training requirements. That means a waiter in Norfolk might need different training than a line cook in Franklin. StateFoodSafety offers county- and city-specific training programs, including ANAB-accredited courses wherever they're required.
Many of our Virginia food handler courses are approved by local health departments, including the Chesapeake Health Department and the City of Norfolk Department of Public Health.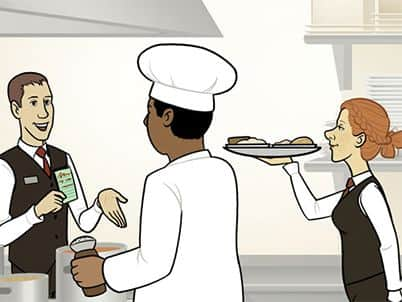 FAQs
Do I need a food handlers card in Virginia?
Food handler training requirements can vary depending on your location. Some parts of the state require anyone who works with food in any capacity to get trained and obtain a food handlers card. And many employers require food handlers training even though it's not legally required.
Whether food safety training is required by law or not, it's highly recommended that food handlers complete training to learn key aspects of food safety.
All StateFoodSafety courses are approved by local governments and statewide. We offer specific training for the following areas:
Charles City County
Chesapeake
City of Franklin
City of Norfolk
City of Portsmouth
City of Suffolk
Goochland County
Hampton & Peninsula Health District
Hanover County
Isle of Wight County
New Kent County
Southampton County
Not all Virginia Department of Health districts have the same requirements for food handlers. Find the contact information for your local department here if you have questions.
Is my Virginia food handlers card valid across the entire state?
Possibly. The Virginia Department of Health has 35 local health districts that often have specific training requirements. Food handler training for Chesapeake County might not be valid in Hanover County. However, the City of Norfolk may honor a food handlers card issued by another city or county.
Our Virginia food handlers cards are valid for two or three years depending on your location. But if you need updated training, you can select your new place of employment in the county dropdown list above and complete relevant training.
If a food handlers card isn't required, should I still get one?
Even if your local health department doesn't require food handler training, completing training is one of the best ways to prevent foodborne illness.
According to the latest foodborne outbreak data from the Virginia Department of Health, the most common outbreak cause was bare-hand or glove-hand contact by an infected food handler.
With a low cost and short time commitment, StateFoodSafety's training can help you prevent further foodborne illness outbreaks in Virginia by following proper food handling methods.
Where can I find more information about food safety requirements in Virginia?
Is the Virginia food handlers course available in multiple languages?
Yes, our Virginia training programs are available in the following languages:
English
Spanish
Simplified Mandarin
Korean
Vietnamese
American Sign Language
Tagalog
Serbo-Croatian
After you purchase your course, you can select your language.