Become a Certified Food Manager in Texas
If you are a manager or supervisor of employees who handle, prepare, store or serve food, you can become a certified food manager by passing the Texas Food Protection Manager Certification Exam.
Our state-approved Food Protection Manager Certification Exam covers:
How to prevent food contamination, including cross-contamination
Food worker health and hygiene habits
Tools, equipment and utensils used in food preparation
Your responsibilities as a food manager
Regulatory compliance and recordkeeping
The role of facility design in food safety
For your convenience, we offer online training and certification options that are approved by the Texas Department of State Health Services (DSHS). The optional training program prepares you for the certification exam and includes a study guide and practice test.
After passing the exam with a score of at least 70%, you can download a printable copy of your Texas food manager certificate. The exam has a 90-minute time limit, and you have up to two attempts to pass. You can take the exam in English or Spanish.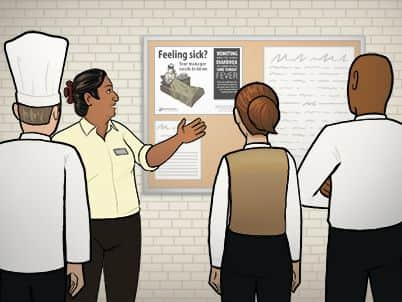 What's Included in Texas Food Safety Manager Training?
The Texas Food Safety Manager Training course is designed to prepare you for the Texas Food Protection Manager Certification Exam.
The course content is 100% online, mobile-friendly and allows you to start and stop as needed. Lessons provide training on food safety topics that prepare you to become a Certified Food Protection Manager.
The course also includes a detailed exam study guide, a handy glossary of important terms and a practice exam. The full-length practice exam simulates the certification exam and can be taken as many times as needed. Review the lessons and retake the practice test until you feel ready for the official certification exam. Note that the practice exam is not timed and will not be proctored like the official exam.