Arizona Alcohol Seller-Server Training Online
Train at your own pace to responsibly sell and serve alcohol in Arizona. Learn your legal responsibilities as an Arizona alcohol server with the help of online BASIC Title 4 Alcohol Training courses available from any device. Whether you work in an off-premises liquor store or an on-premises bar, we offer seller and server courses that will prepare you to succeed in your job. Choose the course that's right for you.
Alcohol seller-server training prepares you to:
Understand alcohol and its effects on the human body
Check ID and recognize minors or intoxicated persons
Refuse alcohol service when required by law
Know and obey Arizona liquor laws
Arizona liquor laws, including alcohol service training requirements, can be found in Title 4 of the Arizona Revised Statutes. Hands-on owners and managers supervising alcohol service are required to undergo basic and management Title 4 training. Alcohol servers are strongly encouraged to complete on-premises server training or off-premises seller training, though servers are not legally required to undergo BASIC Title 4 training. Many employers either require or prefer alcohol service candidates who hold Title 4 training certificates.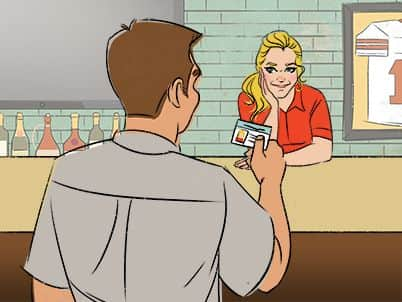 FAQs
Who needs Arizona Title 4 Alcohol Training?
All managers, hands-on owners and other management positions directly involved in the sale or service of alcohol in Arizona must complete basic and management Title 4 Alcohol Training under ARS § 4-112(G)(2).
Alcohol sellers and servers in non-management roles are not legally required to take Title 4 Alcohol Training, but doing so is strongly recommended. Employers may require basic Title 4 Alcohol Training as a condition of employment or prefer candidates who hold Title 4 training certificates.
What is the difference between on-premises and off-premises alcohol service training?
Off-premises or on-premises liquor training depends on where the customer will consume the alcohol.
On-premises establishments include restaurants, bars, nightclubs and other venues in which patrons will consume alcoholic beverages on-site. Training for these establishments is considered "on-premise" or "server" training.
Off-premises establishments include convenience stores, liquor stores, grocery stores or other locations where customers purchase alcohol but do not consume it on-site. Training for these establishments is considered "off-premise" or "seller" training.
How long is my Arizona Title 4 Alcohol Certification valid?
Your certification will be valid for three years. You must repeat your training before expiration for your certification to remain valid.
How do I renew my Arizona Title 4 Alcohol Certification?
To renew a lapsed or expired Arizona Title 4 Alcohol Training certificate, you must purchase and repeat the full training and pass the test again.
If you need to print a new copy of your certificate, log into your course and go to the Certificates area. You will be able to select View and print your certificate as many times as needed.
Do Arizona alcohol servers also need an Arizona food handlers card?
If your job also involves food, you should take Arizona food handlers training.
Anyone who works with unpackaged food, food equipment or food contact surfaces qualifies as a food employee. Certain counties in Arizona, including Maricopa, La Paz and Coconino, require food employees to hold a valid food handlers card. While a food handlers card is not legally required in all Arizona counties, training is highly recommended.
StateFoodSafety offers an Arizona Food Handlers Card course approved by the state of Arizona and accredited by ANAB. We offer approved training for food handlers in Maricopa County, La Paz County and Coconino County. Learn more about our Arizona food handlers courses.