A Better Learning Experience
Prepare to Become a Food Manager
Certified Food Protection Managers must know how to safely manage food service operations and supervise employees who handle food. This training course covers advanced safety topics for food managers and prepares you for your certification exam.
This course is completely online and includes a study guide and a practice test modeled after the exam. The training does not include the certification exam, which you must pass to become a certified food manager. Check with your state or local health department for more information.
What's Included in Training
The most popular option if your area or employer only requires a demonstration of knowledge.
Online Training
100% Online
Mobile-Friendly
8 Hours (Start and Stop as Needed)
Free Practice Test
Unlimited Attempts
Prepares You for the Exam

Description
Food Safety Manager Training
This manager-level food safety training course will prepare you to take the nationally approved Food Protection Manager Certification Exam.

Available in English, Español,普通话 and Việt. You will have an opportunity to choose your language after purchase.
Learning Objectives
(Effective date October 29, 2020)
At the end of this course you will be able to:
Identify food safety risks and create policies to address them
Train employees to follow food safety policies
Take appropriate action when an employee has symptoms of foodborne illness or is diagnosed with a reportable disease
Follow good personal hygiene and hand care practices
Identify approved suppliers and methods for inspecting deliveries
Identify cross-contamination risks and methods for prevention
Implement effective cleaning and sanitizing procedures
Identify appropriate pest prevention measures and signs of pest infestations
Prevent bacterial growth in Time/Temperature Control for Safety (TCS) foods during all stages of the flow of food
Maintain facilities and equipment in compliance with regulations
Practice Test
This food manager practice test is designed to simulate the real test experience. It will help you identify areas of strength and weakness before you sit for the actual food manager exam! You can take this practice test as many times as you want.
| Exam Content Description | Percent of Exam |
| --- | --- |
| Preventing Food Contamination | 35% |
| Food Worker Health and Hygiene | 23% |
| Equipment and Utensils | 15% |
| Managerial Responsibilities | 12% |
| Regulatory Compliance and Records | 8% |
| Facility Design | 7% |
| Total: | 100% |
How To Get Certified
Select a course that includes the StateFoodSafety Food Protection Manager Certification Exam.
Select an exam session with a proctor. You can do this during the registration process or any time after.
Purchase course and finish registration process.
Prepare for the exam with the StateFoodSafety Food Safety Manager Training and Course Assessment.
Take the Food Protection Manager Certification Exam at your scheduled proctored session. Don't forget your photo ID! *
Print your Food Safety Manager Certificate from your account at statefoodsafety.com ** This certificate is good for 5 year(s).
The exam is closed book. You will be responsible for adhering to the Examinee Code of Ethics and all rules explained by the proctor.
*Must be a valid government-issued photo ID.
**Must pass the Food Protection Manager Certification Exam to receive a certificate.
Training Demo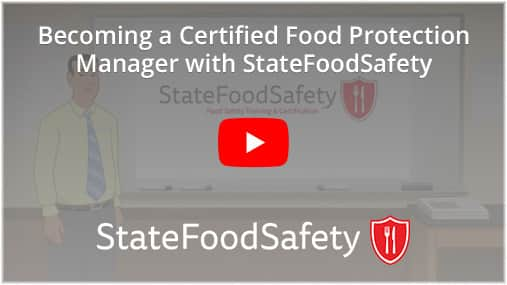 Sharpen your managerial skills and arm yourself with essential food safety know-how! Learn everything from how to prevent food hazards to how to create employee training programs. This course prepares you to take the StateFoodSafety.com Certified Food Protection Manager Exam.
What Food Managers Are Saying
"...I can definitely say this course was much more enjoyable and effective than the other course I took several years ago."
"I was pleasantly surprised at the quality and ease of the online course."
"I would definitely recommend my family and friends to take [this] online course!"
Recommended Study
Prepare for the Food Protection Manager Certification Exam with the following:
Food Safety Manager Training FAQs
Do I need this training and practice test?
The training is designed to prepare food managers (persons in charge) to take the nationally approved Food Protection Manager Certification Exam or to fulfill a demonstration of knowledge requirement. Training is optional in most areas; check your local requirements to be sure. The practice test is optional, but is provided for free with this training!
How do I become a Certified Food Protection Manager?
For a full explanation of this process, view How to Get Certified.
How long is this Food Safety Manager Training course?
The full training is 8 hours. You may choose to complete the full course or review only the topics you need. Stop and start as needed. Take the practice test to prepare for the Food Protection Manager Certification Exam.
How long is my StateFoodSafety Food Safety Manager Training Certificate of Completion good for?
The StateFoodSafety Food Safety Manager Training Certificate of Completion is valid for 5 years.
How long can I access the course?
When you purchase a StateFoodSafety course, you automatically get one year of unlimited access to the training videos. Take your time through the course or come back after completion to brush up on your food safety knowledge!
Certificate Reprint
In most areas, you can reprint your required Food Manager Certificate by logging in to your account.
Login.
Find the Certificates window on your dashboard.
Locate the digital version of your certificate and click View Certificate.
Select Print or Email.
Note: In some areas, you get your official Food Manager Certificate from the local health department. If you have lost the card you received from your state, county, or local health department, you will need to call that health department to obtain a new card, permit, or certificate.