A better learning experience
How to Get Your Jefferson County Food Handlers Card
Mobile Friendly Course

Best Price

Government Approved

Training Success
How to Get Your Jefferson County Food Handlers Card
1
Train
100% Online
Health Department Approved
ANAB Accredited
2
Test
2 Test Attempts
70% to Pass
3
Print Certificate
Print from Home
Valid for 2 Years
Training Access for 1 Year
Why Choose StateFoodSafety?
ANAB Accredited
Approved in more areas than any other provider
Start and stop the course as needed and work on different devices
Choose from multiple languages in your account after purchase
More than 95% of people pass!
About Course
Format: Online
Compatible Devices: Computer, tablet, and smartphone (Android, iOS)
Teaching Methods: Interactive activities, audio, video, full-text, etc.
Available Languages: English, Español, 普通话, 한국어, Việt, American Sign Language, Tagalog, Serbo-Croatian
Choose your language after purchase.
Length: 30 Minutes (Start and stop as needed)
Prerequisites:
To get your card, simply watch the training videos and pass the test. More than 90% of people who take this course pass.
Approval
This food handlers card holds the ANAB food handler training program accreditation (ASTM e2659-2015) and is approved for use in Jefferson County by the Jefferson County Health Department.
Purpose
This program's purpose is to provide food handlers with the information they need to handle food safely. This information may include content specified by state or local regulations.
Scope
This program will teach or reiterate responsible food handling principles to the learner.
Learning Objectives
(Effective date April 29, 2020)
By the end of this course, you will be able to:
Recognize how food can cause illness or allergic reactions.
Prevent contamination of food and food-contact surfaces with the hands and body.
Identify which symptoms or illnesses must be reported to a manager.
Use time and temperature control throughout the flow of food.
Maintain a clean environment for food preparation and service.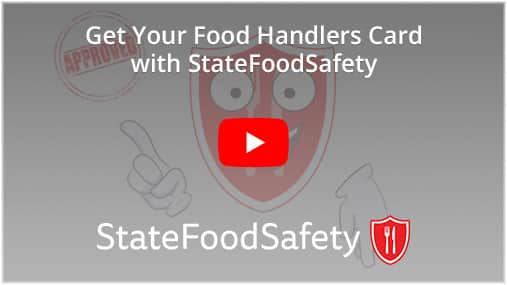 Jefferson County, West Virginia Food Handlers Card FAQs
Do I need a food handlers card?
If you are a food handler in Jefferson County, you are required to complete a food safety course that is approved for use in Jefferson County. Completing an approved food safety course will award you with a Jefferson County Food Handlers Card. A food handler is someone who handles, prepares, serves, sells, or gives away food for human consumption.
Is this food handler training and test approved for my area?
This program that includes a training and test is approved for use throughout Jefferson County, West Virginia.
When do I need to get my Jefferson County Food Handlers Card?
Within 30 days of starting work.
What do I get when I finish this course?
Jefferson County, West Virginia Food Handlers Card
How long can I access the course?
When you purchase a StateFoodSafety course, you automatically get one year of unlimited access to the training videos. Take your time through the course or come back after completion to brush up on your food safety knowledge!
How long is my food handlers card valid for?
Your food handlers card will be valid for 2 years.
How do I renew my food handlers card?
If your card has expired, you will need to purchase and retake the Jefferson County Food Handlers Card training and test. If you need to reprint your current card, log in and go to the Certificates section. From there, you can click View and print your card.
What is a food handlers card?
A food handler card is a certificate, card, or permit that shows you have completed a food safety course that is approved by your state and county, and that you understand the basics of food safety.
Certificate Reprint
In most areas, you can reprint your required Food Handler Certificate by logging in to your account.
Login.
Find the Certificates window on your dashboard.
Locate the digital version of your certificate and click View Certificate.
Select Print or Email.
Note: In some areas, you get your official Food Handler Certificate from the local health department. If you have lost the card you received from your state, county, or local health department, you will need to call that health department to obtain a new card, permit, or certificate.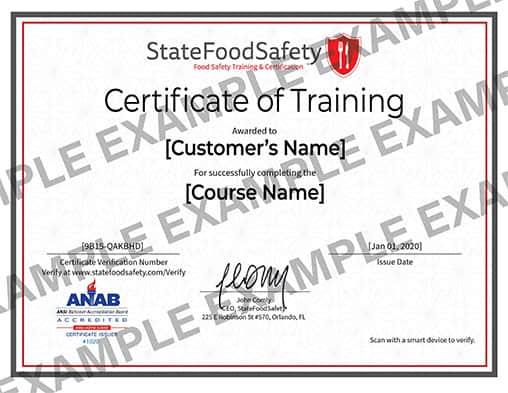 Group Purchase
Are you looking for an easy way to manage training for multiple employees? Try our group purchase system!
Easily Manage Training
When you make a group purchase, we automatically add administrative tools to your account to help you manage your training vouchers. You'll be able to email voucher codes to employees, track their progress through the course, and view earned certificates.
Qualify for Discounts
Buy training in bulk and get up to 10% off. Discounts are available for all course types, from food handlers card training to food manager certification.